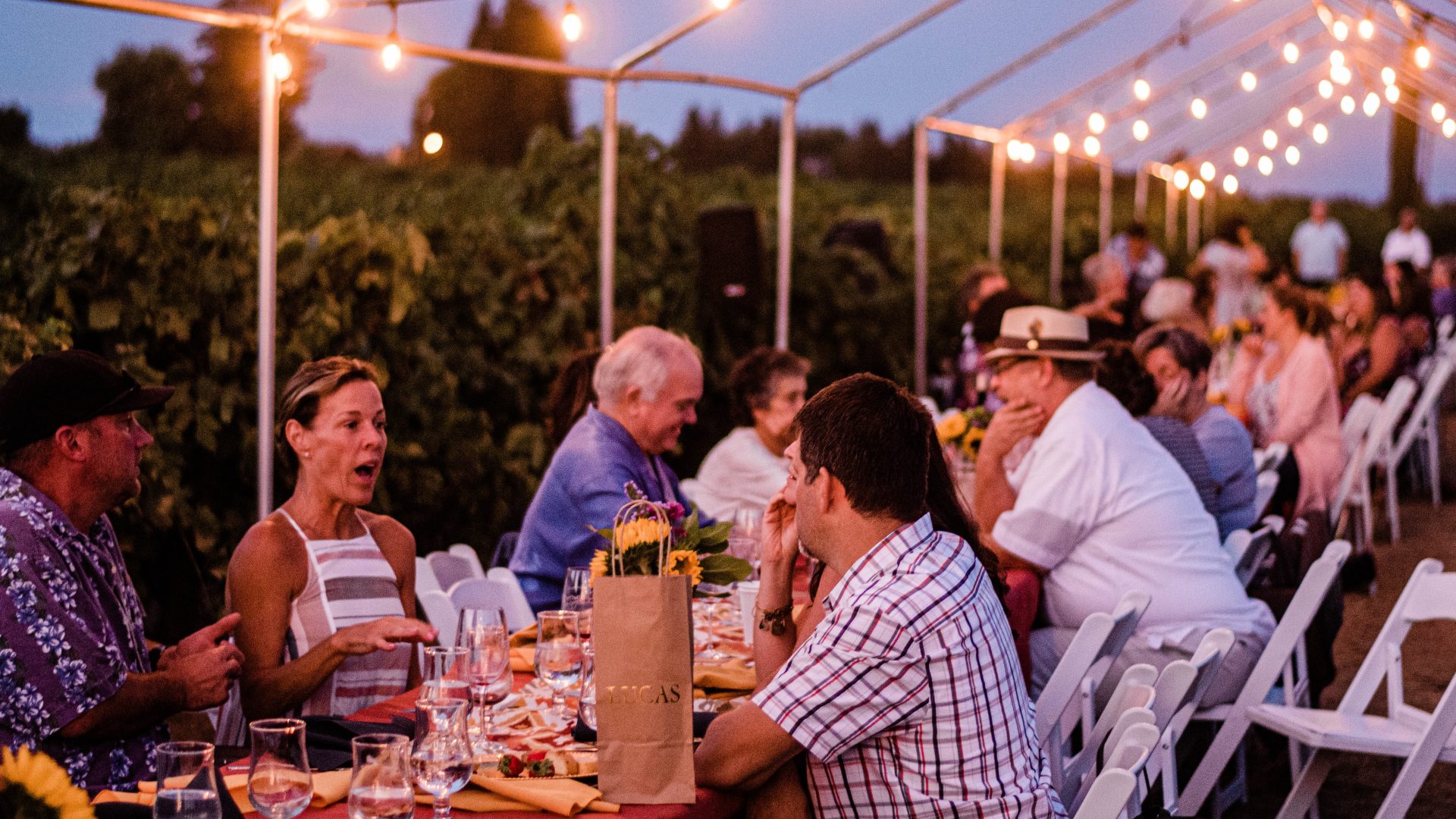 At The Lucas Winery, Wine Club members aren't just friends, they're family.
We commit to spoiling you with all the perks of being family, including our pledge to share only handcrafted wines of the highest quality. Of course, there's so much more:
THE PERKS:
Minimum 15% discount on all wine purchases and non-wine items.

Complimentary tasting for you and up to 4 guests when visiting the winery.

Quarterly Wine Club pickup events, featuring food & wine pairings, library tastings and hands-on vineyard and winemaking experiences.
Priority reservations for our annual events.
Advance purchase options for new releases & limited edition wines.
Control your membership and order wine from the comfort of your home.
Freedom to customize your Wine Club selection. Just contact us before the processing date and we'll take care of the rest.
Help us grow our Wine Club and we'll help you grow your cellar. Enjoy 1 complimentary bottle of wine for each new member you refer!
NEED HELP? Our Wine Club Manager is happy to assist you. Simply call (209) 368-2006, or email wineclub@lucaswinery.com. Please keep in mind our business office is closed Monday & Tuesday.
WHAT TO EXPECT:
Four annual shipments of 4, 6 or 12 bottles.
Your credit card will be billed automatically each quarter. All Wine Club invoices may be viewed by accessing your account online.
We allow ample time from release for members to pick up their wine. Wine not picked up will be shipped. Shipping charges will be made to the credit card on file.
Need to cancel your membership? Simply email wineclub@lucaswinery.com.
SHIPPING:Shipments will be sent via UPS Ground and require an adult signature (21+) upon delivery. We recommend shipping to a business address if possible. Flat-rate charge for all members of $25 (excluding Hawaii) and FREE SHIPPING for all 6 and 12 bottle members in CA.
NEED T O CANCEL? We are sorry to see you go! If you wish to make any changes to your account, put your account on hold or cancel your membership altogether, our Wine Club Manager is happy to assist you. Email wineclub@lucaswinery.com or call us at (209) 368-2006.
READY TO JOIN?